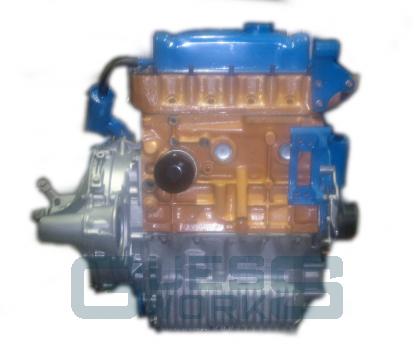 It is not uncommon for mini owners to lavish their pride and joy with shiney bits for both the exterior and interior, but open the bonnet and there's a black oily lump of metal letting the side down.
Guessworks is now able to offer a "Refresh" service for your engine.
So what's a refresh... well it's not just a lick of paint for a start, and it's not a full recondition either, but somewhere in the middle.
Firstly an engine is broken down into it's 4 major parts, head, cylinder block, gearbox and clutch.
The gearbox is stripped and along with the transfer case and clutch cover, the case is chemically cleaned, hot washed and finally bead blasted to remove all oxidisation and gives a clean shine to the alumininum casings.
All the tinware and bracketry on the unit is likewise dipped and blasted in preparation for powdercoat, colour choices are plentifull.
The engine and head are cleaned and prepared for paint, colour choices are only limited by your imagination. It should be noted that the engine or head does not get stripped, however, if there is a requirement for engineering work, rebore, new bearings, valve guides, unleaded seats, pistons etc etc, then this can be accomodated.
Everything is then put back together, the gearbox receving the std Guessworks refurb service, all gaskets and seals are renewed.
Basic refresh cost including the strip, clean and rebuild labour, transmission refurb, paint, powder coat, blasting, gaskets, seals & VAT, £800. Any machining or additional parts are then on top.